Plamen Russev
Chairman of Webit Congress | Serial Entrepreneur | Author | Public Speaker | EMEA digital agenda consultant
Dr. Plamen Russev
Serial Entrepreneur with proven success record in developing business ventures in multicultural and challenging business environments.
Investor in tech companies with special interests and experience in Impact Investments in Healthcare, AI, IoT and as well as in eSports, VR and Real Estates.
"Sofia – Digital Capital of the New Markets" is a brainchild of Plamen Russev. The Project is positioning Sofia as a digital and tech hub for the CEE region and beyond. The project is endorsed by the President of Bulgaria, H.E Rossen Plevneliev, the Mayor of Sofia, Mrs. H.E. Yordanka Fandakova and the city council of Sofia. See the coverage by the global business bible Forbes
Awarded by Financial Times, Google, Respublica and Vishegrad Fund among the 100 New Europe Innovators
Sitting on the board of a number of companies in different locations around the world.
Founder and organizer of the Global Webit Series with locations in Sofia, Istanbul, Dubai, Singapore and New Delhi
Best Selling Author (book "Power to the People") and public speaker.
Experienced consultant on the emerging markets digital agenda, e-governance and IT with more than 20 years experience.
Member of a number of international academic, IT, marketing and non-profit organizations and trade associations.
Founder of Webit Foundation and member of the Honorary Board.
Doctor Honoris causa of "Chernorizetz Hrabar" University: Plamen Russev was given the honorary degree of "Doctor Honoris Causa" by the University for his commitment to support the implementation of new and innovative forms of education, providing huge amount of knowledge for the new economy and the forth industrial revolution and growing the entrepreneurial ecosystem of Bulgaria as well as for establishing Bulgaria as a Digital and Tech hub for CEE for the sake of the future development of Europe.
Plamen Russev is featured in hundreds of international and local media and blogs including Bloomberg, CNBCe, Forbes, Venture Beat, CNN Turk, Bulgarian National TV, Nova TV, bTV and was on the cover of .BG Innovator Magazine and Economy Magazine.
Happily married to the most wonderful girl in the world and father of 2 boys.
From my Blog
Shared thoughts about Plamen Russev by world leaders

"Plamen is a natural leader with a strong vision for the development of the Internet industry across the CEE region."
Anthony Psacharopoulos, Senior Vice President, comScore, Inc.

"Plamen is a top performer in Education & Promotion of Internet in Eastern Europe. He is a person of choice if you plan to introduce yourself or your company to the emerging markets"
Diego Semprún de Castellane, Managing Director, EMEA Emerging Markets, Nielsen Online

"A charismatic leader and visionary evangelist in the digital industry, Plamen has created not only a great conference but more importantly a community of business and thought-leaders in the EMEA region to collectively accelerate the growth of digital and innovation."
Andy Chen, Vice President of Digital Sales and Media, MTV Europe / Viacom Brand Solutions International

"Plamen has become a focal point for the rapidly growing Central and Eastern European digital industry. Through activities such as the excellent Webit Congress, and because of his energy, collaborative approach and vision, he is both speeding the growth of this sector and bringing valuable international awareness and interest. I am honoured to know him."
Tom Bowman, VP Strategy and Operations, BBC Worldwide

"Plamen is an impressive pioneer/evangelist for the online industry in Region. He is a very important driver of the industry in the region with a very strong vision and a focus on doing businesses on scale which is especially important in a region that consists of a lot of countries."
Steffen Ehrhardt, Project Manager & Product Specialist Emerging Markets, Google

Plamen Russev is one of the pioneers and he works for the sake of Bulgaria to help the country build its reputation in the digiatl and tech fields. His vision for the digital future of Bulgaria is also mine!
Rossen Plevneliev, President of Republic of Bulgaria

"A trully professional energizer for the Digital Industry in the entire Region"
Alain Heureux, President, IAB Europe and Belgium
In The News
Cover of .BG Innovator magazine:
Title: Mission Bulgaria

Cover of Economy Magazine:
Title: Let's turn Bulgaria into tech leader
TV interviews and coverage
Power to the people - the new marketing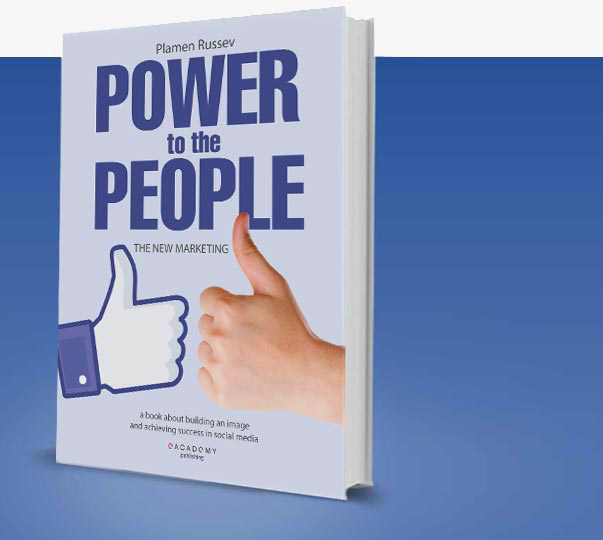 The best selling book "Power to the People - the new marketing" is a guide to creating online identity and engaging in conversation. It reveals a step-by-step process of successfully using social media for business.
In the first part @Plamen Russev explains the social media phenomenon. The second part provides precise guidelines to creating both a personal profile and a brand page. Althouh we all know how to do that, if you read the book you'll understand why some are more successful than others. The third part is dedicated to a comprehensive plan for creating a social media marketing strategy. The forth and last part of the book provides proven tools and solutions of successful online reputation management.
"Power to the people - the new marketing" is published by e-Academy - the EU-certified educational institution for professional online business and digital marketing education.